I lost my heart at Renegade…
We visited the Renegade Craft Fair this weekend…Over 300 crafts people from all over the nation gathered  between Paulina and Damen on Division Street here in Chicago. Wow. Amongst our friends and fellow artists ( some are listed at the end of this entry) my favorite new find this year: Peggy Skemp from "Heron Adornments."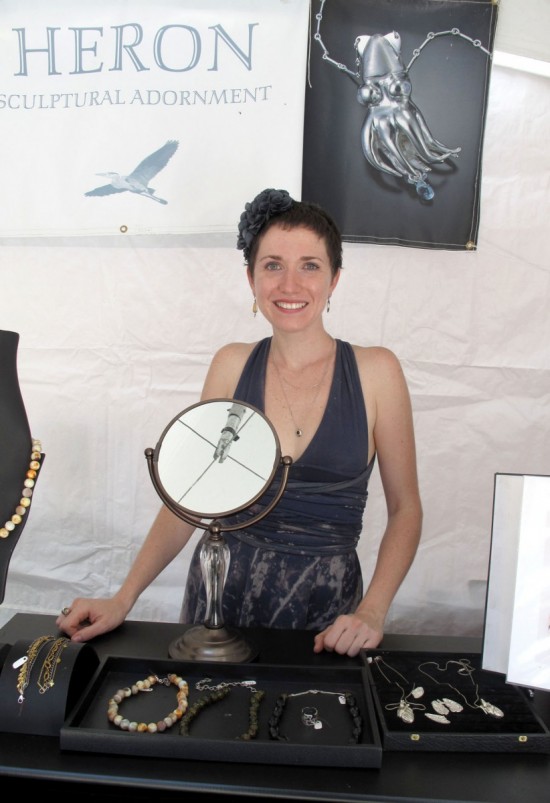 I fell in love with her beautifully crafted botanical jewelry. Peggy works in a small studio in Chicago, and she learned metal-smithing at GIA in Carlsbad, California before going on to receive her BFA from The Art Institute of Chicago. Just like me she is inspired and fascinated with nature and science. I loved her heart pendants, her octopus rings, her fungi collection….the objects of my desire, the objects I am fond of and have incorporated in my own work for as long as I can remember. She casts from specimen collections that her grandmother left her. The reason I did not buy anything? I want it all…!
Visit her site. The photos, while quite beautiful don't do her work justice. She is showing next at the Art Institute. I will see you there.
Friends. And friends of friends…
Ryan Kapp. Think Edward Hopper-esque suburban scenes. In oil. Or screenprinted. ( 11 colors anybody?)  My favorites are sold. Sadly.
Delicious Design League. The name says it all. SUPER TALENT. We call them friends.
Mok Duk. The amazing Anne Benjamin. We love her style and her calm.
Nisee Made. Denise Holmes, a good friend of Anne's. If you are looking for cute that is well designed and crafted, you arrived.