You'll never hear me complaining when we have to go on a business trip to Louisville, Kentucky. I love my clients down there. But honestly I really like going because I love the 21c Museum Hotel where I know we will stay. Or dine. Now for the second consecutive year the 21c Museum Hotel has been selected as the #1 hotel in the United States and #6 in the world in the prestigious Condé Nast Traveler Readers' Choice Awards. Really??? Yes.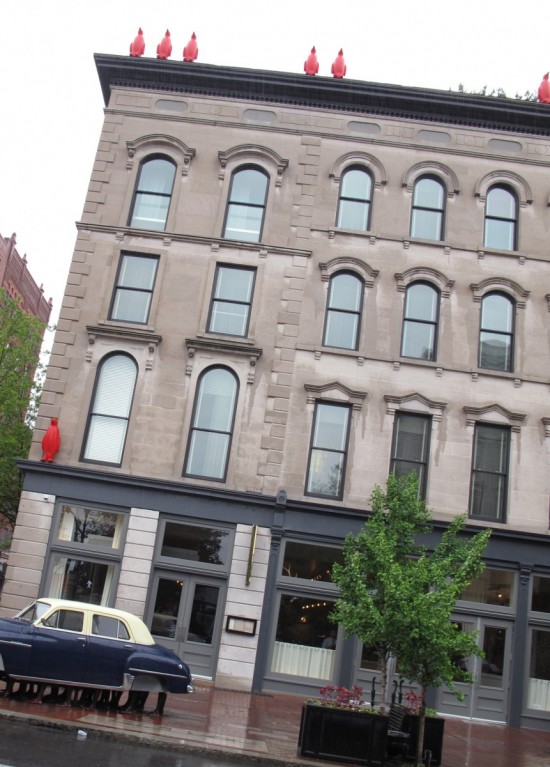 Opened in 2006 by Laura Lee Brown and Steve Wilson, contemporary art collectors and philanthropists, and  housed in a series of renovated 19th century tobacco and Bourbon warehouses the 21c has 90-rooms ( think humble yet luxurious Southern-style hospitality.) But foremost the 21c Museum Hotel has established itself as a nationally recognized destination dedicated solely to the art of the 21st Century. Ever changing exhibitions and installations in every room, in every public area from lobby to elevators to bathrooms. Never obnoxious-always inspiring. I love this place. The Red Penguin sculptures that are exhibited throughout 21c ( even on the rooftops) were created by Italian design collective The Cracking Art Group and  commissioned for a public art project at the 2005 Venice Biennale.
Last Monday we stopped by just briefly ( sadly no sleeping over this time)…checked out the latest exhibition and grabbed an as always amazing lunch at their restaurant "Proof". Below the latest "Big Game" pieces ( or what they call "Creatures from the Collection") featured in the dining room…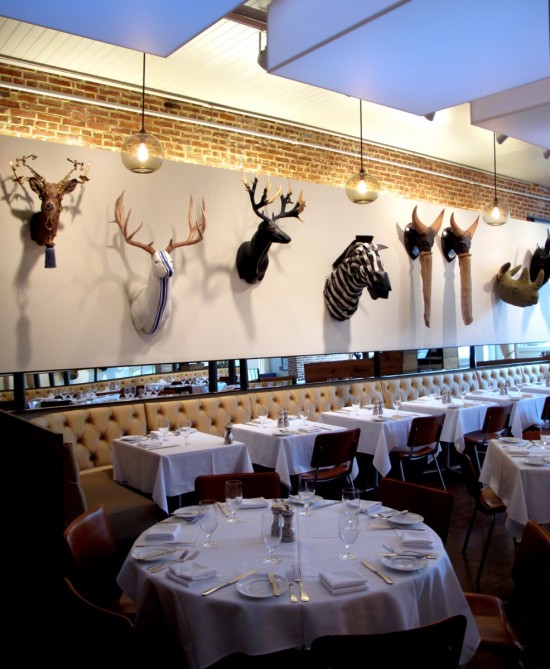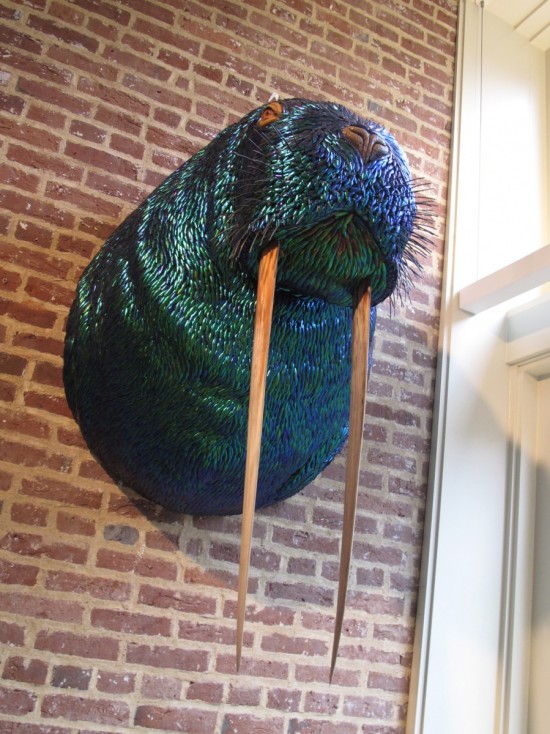 Enrique Gomez de Molina, I Am The Walrus, 2010. Geno-sculpture taxidermy, jewel beetle wings, swordfish bills.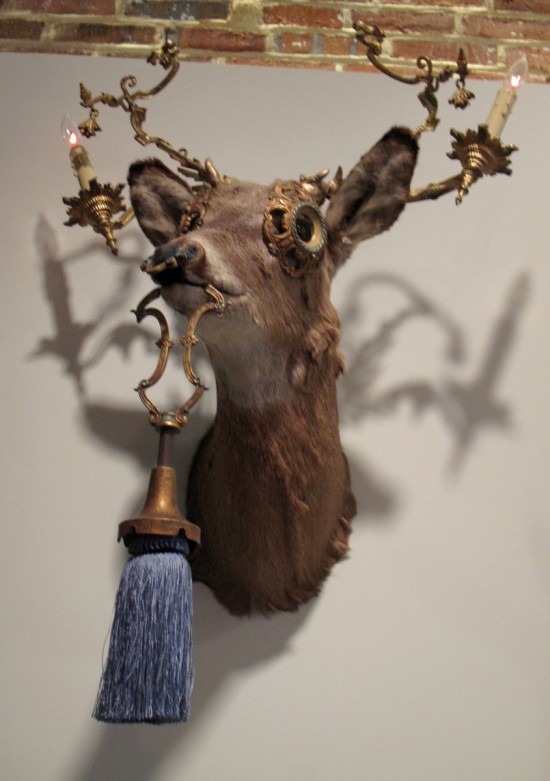 Amelia Biewald, Ton Ton, 2010. Taxidermy, brass chandelier pieces.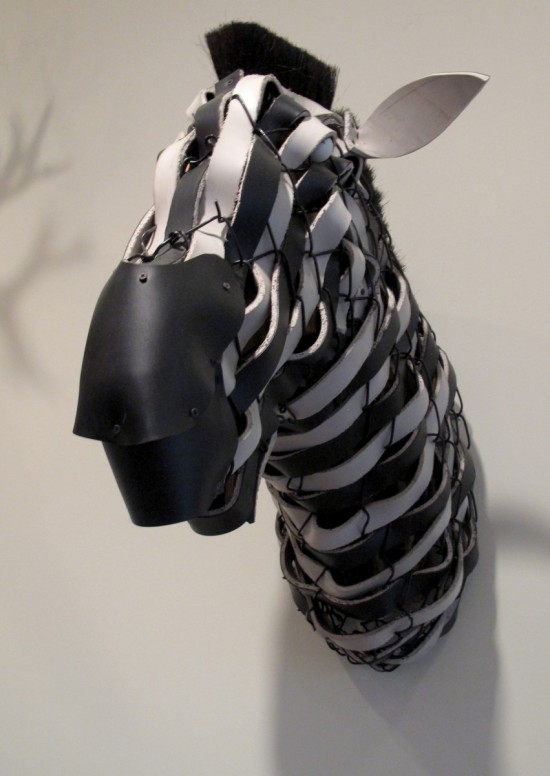 Johnson Foster, Zebra Trophy, 2005. Mixed media, including leather, wire and broom handles.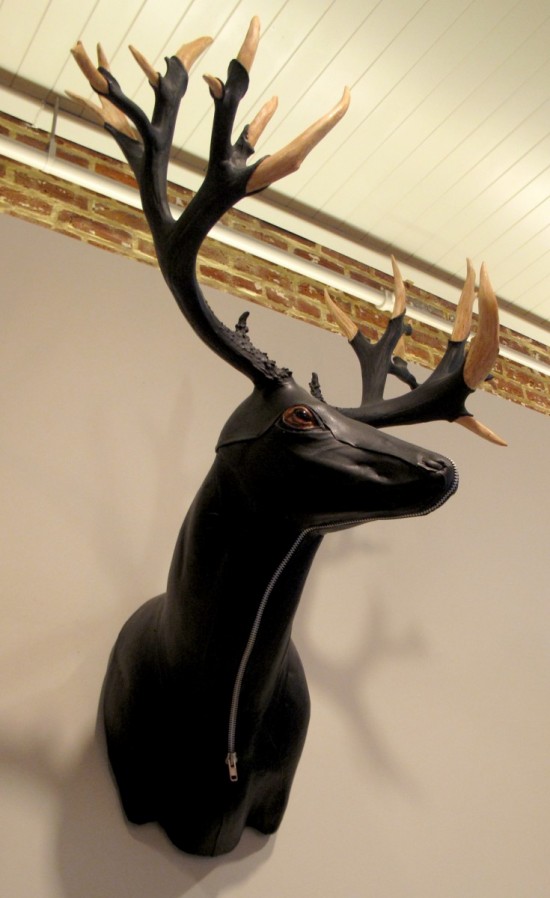 Michael Combs, Alpha Male, 2005. Linden wood, leather, rubber cladding and zipper.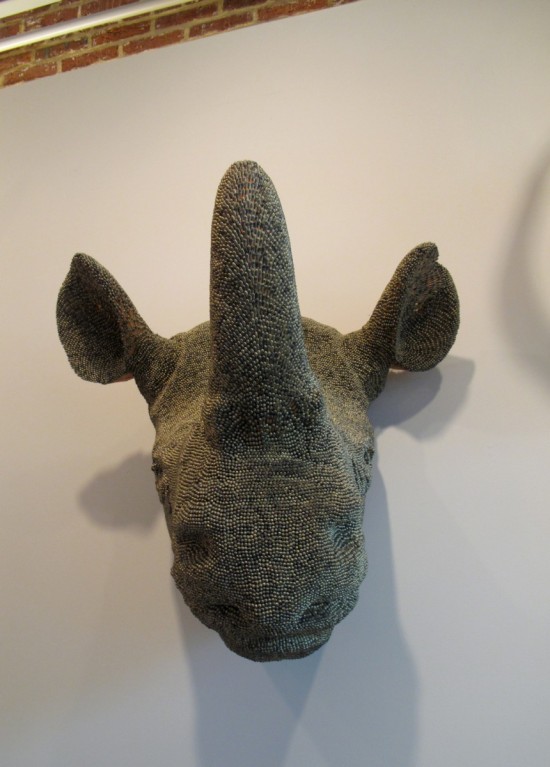 David Mach, Golden Rhino, 2004. Wooden safety machines.
Now, this is clearly the shall I say " shallowest" and most flashy of all installations. Again, check their calendar for current exhibitions and installations. And, since we are talking about shallowness, just between you and me, the real reason I am so in love with this place , is "Proof's" seasalt-caramel gelato…Home made and to die for. Seriously.