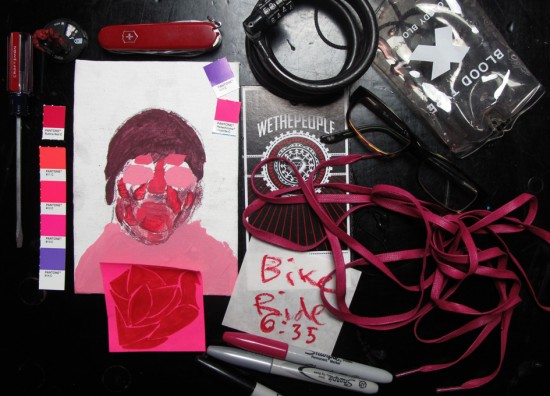 There is no denying that my son Jarek, my collaborator, my "baby" is growing up.
Here my "Sunday Morning" stillife -objects from around his desk, his room, our kitchen, the studio…these are the things he carries with him; the things he creates every day on his journey of becoming who he will be. Today, he seems to be very RED. ( Check out the cards we created together, when he was a little younger. We called that line "Offspring". Last week I found a drawing on his desk. It is titled "Offspring. Part 2. The Evolution." Can't wait to see what he is thinking.)
Pictured here are…
1.    His Swiss Army Knife, a German tradition. My brother gave it to him for his 12th birthday. Yes, that's what you get when you turn 12 where I come from.  ( I swear he knows not to bring it to school.)
2.     Pantone colors he likes today.
3.    "We The People" Hang tag of his brand new "I-Am-A-B+ Student-Report-Card" bike. (The bike  is matte white with purple graphics and rims.)
4.    His pens are Sharpie. Always Sharpie.
5.    His Glasses. Ray Ban.
6.    The extra laces to his "Supra" boots. The boots are black and magenta and tiger striped.
7.    One of his hand painted figures from "Games Workshop."
8.    A pouch of candy blood, empty. ( Where did it go???)
9.    A note to me, kindly letting me know when he left to a go on a ride.
10.   A self portrait. Oil on canvas…a school project and a present I cherish.
11.   A sticky note with a new "pattern".
12.   A screw driver to take things apart with. All kind of things.
13.   Last, his bike lock of which I do not have the combination.